Meetings and Conference Venues in Bangalore
MLR Convention Center offers well-equipped meeting rooms, corporate party halls and conference halls which are perfect venues for your events, meetings and conferences. Request a quote today!
Boardroom
U-shaped or Theatre Style Seating Arrangement
Seating Capacity of up to 30 Guests
Conference Room
Professional AV Equipment
Meeting Table with Chairs
Seating Capacity of 10 Guests
We would like to commend you and your entire team at the MLR Convention Center-JP Nagar for the excellent service provided to us during our photography festival SILK Inspire 2018. 
We were particularly touched due to the fact that despite your health setback you were very much present for the festival.
Your co-operation and interaction right from the time we booked the center to the closing of the accounts at the end of the festival was professional. 
All levels of the staff were attentive, alert and extremely helpful and courteous. They were present all the time, in the background and ready to help or assist whenever required. This includes the security as well. The place is well maintained and cleanliness is impeccable. 
Everyone went the extra mile to make our experience nothing short of perfect.
I wrote to you a couple of years ago to highlight the outstanding contribution that Prasanna and his team made to the wedding of our elder daughter Smita at MLR, held on Jan 2nd and 3rd 2016.
There was never a question in our minds that when it was time to plan the wedding of our younger daughter Nandita, we would go back to MLR.
We've just concluded two hectic days of celebration at MLR in connection with Nandita's marriage, on 16th and 17th August. This was an intimate family wedding with around 400 guests, just right for MLR. We also booked 20 rooms in Woodrose for our guests so that they did not have to deal with Bangalore traffic.
As always, Prasanna and his team were brilliant. All of them played a part in creating an experience to remember for both we, the hosts and our guests. Our sammandis are from the US and went away with very fond memories of their son's wedding.
One always tends to worry that with a steady stream of weddings to cater to, the staff of MLR might go about their jobs in mechanical fashion, doing their tasks by mere habit. We were really impressed by the attitude of Prasanna and his team, who all seemed to treat 'our' wedding as 'their' wedding. They responded to every small request and to every crisis – a locked safe in the bridal suite on the morning of the muhurtham was unlocked in 5-6 minutes.
I would like to compliment Prasanna and his colleagues for a job not just well done, but done brilliantly and done from the heart.
At the outset, thank you very much for making the wedding a great day for us, with your and team's unconditional support.
There was also great appreciation by all my guests for the excellently maintained  convention center vibrating lots of positive feel about the place!
Above all of your team members and yourselves were very courteous, helpful and very polite with all our guest during the two day event. Would like to have a special mention to Mr. Satish for being with us, helping eagerly with a smile on his face from the moment we entered on 18th morning to until  late night of 19th Jan 2017! We learnt a lot from you and your team! You have redefined hospitality!!! It was wonderful to be associated with MLR TEAM!!
Me and my wife Sumathi would like to thank you and your manager Prasanna for the excellent facilities at MLR Centre, where we celebrated my son's wedding on 9th Feb, 2017
We have been very impressed with Prasanna and his team for their support through out our dealings with them. They have been very professional, very helpful and enabled us to feel confident that everything was under control – very important as we live overseas and needed that assurance. The facilities at MLR centre were clean and of good quality and we received very good feedback from our friends who attended the wedding as well.
We wish MLR centre, yourself, Prasanna and your families the very best.
Wow! Is the first expression that came to my mind when I visited the MLR convention centre. The architecture is contemporary and we can rub shoulders with the best convention centers across the world. I am sure no other building in Bangalore can boast of a better car parking facility. The guest rooms are well-appointed and the bridal suites are luxurious. We hope to come back time and again to enjoy the ambience and utilize the multi-faceted facilities at the MLR Convention Centre.
We engaged the venue for my daughter's wedding. I must commend Brigade Hospitality for the very contemporary and world-class facility. The rooms compare well with 5-star hotels. The ambience is excellent and all our guests spoke appreciatively of the facility. Many were not aware of the existence of such a facility. The assistance provided by the management and he staff is indeed commendable.
It was my sister's wedding reception. I am a Mumbai-based film-maker and travel all over the world. Honestly, this is one of the best experiences I've ever had in my life. Great service by the staff. I'm happy I chose this place.
Very good food & Service. Committed & dedicated staff. Excellent standard of operations in the business!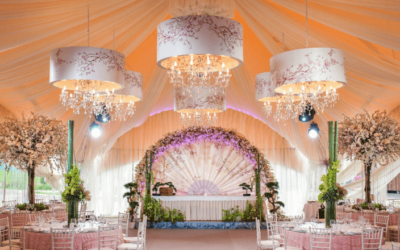 Introduction As you begin the extensive preparation for your wedding, the selection of the ideal Mehendi and Sangeet location in Bangalore is critical. The city, which is recognized for its rich culture and dynamic energy, has an enormous number of possibilities for...
read more